Juice People Unlimited - DIsco Godfather (Original 1979 Motion Picture Soundtrack)
February 28, 2019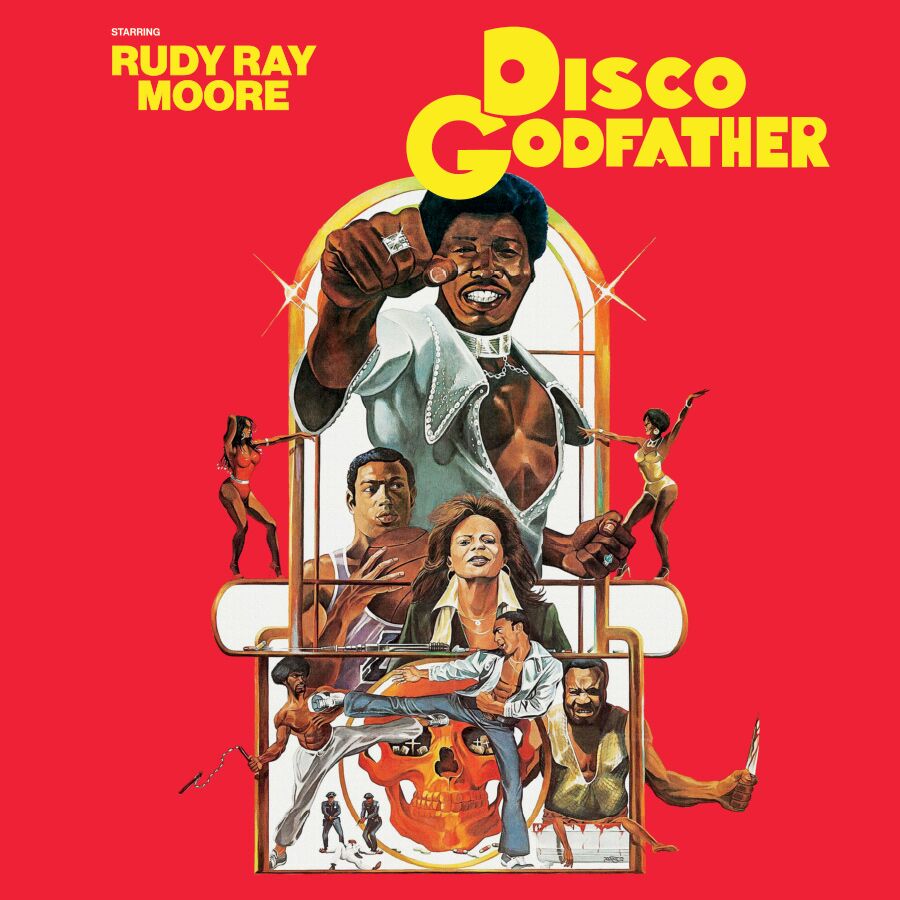 In 1979, inspired by the massive success of both "Saturday Night Fever" and "The Godfather" movies, shock comedian Rudy Ray Moore created DISCO GODFATHER, as a black-POV parody of the disco phenomenon. Disco Godfather is a classic Blaxploitation movie about an ex-cop, with a talent for both martial arts and jive, who sets out to fight the PCP epidemic taking over his neighborhood. Directed by J. Robert Wagoner, the film is starring Rudy Ray Moore (who also co-produced the film) and established genre actress Carol Speed.
Already a legendary X-rated comedy star by the 1970's, Rudy Ray Moore later transitioned into movies. With the money he earned performing at clubs he financed DOLEMITE (1975) which would turn out to be his most iconic and successful film. Moore returned to performing stand-up during the '80s and '90s and gained a new fan base when rappers like Snoop Dogg and Busta Rhymes began sampling his records and hailing him as "the Godfather of Rap" for his use of rhymes in dialogue. In 2018 (10 years after Moore's death), it was announced that Craig Brewer (Hustle and Flow) would direct the upcoming biographical-dramedy "Dolemite Is My Name "about Rudy Ray Moore. The Netflix film will star Eddie Murphy as Rudy, other cast members will include Wesley Snipes and Chris Rock.
Every cool film needs a cool soundtrack, so the movie's producers turned to the band "Juice People Unlimited" to crank out a funky disco flavor bomb. This studio band consisted of many noted musicians, including legendary drummer James Gadsen (one of the most recorded drummers in R&B music, having played on hundreds of hit records); bass player David Shields (Smokey Robinson, Patti Labelle, Gloria Gaynor); guitarist Paul Jackson Jr. (The Temptations, The Pointer Sisters, Bobby Womack); guitarist Wali Ali (Rick James, Marvin Gaye) & percussionist Melvin Webb (The Gap Band, Janet Jackson). The funky tunes on this album were written and arranged by the legendary Ernie Fields Jr., recognized for his baritone sax work with such iconic artists as Marvin Gaye, Rick James and Freddie Hubbard. Fields' other credits include working as a session musician for (as well as touring with) Fred Wesley in the 1990s … and more recently his involvement as a music contractor for American Idol, The Voice and X Factor.
Delivering four lengthy tracks (including trippy sound effects and slurry nasally vocals), the band succeeds in capturing the essence of the movies' message and concept perfectly. With distinct nods to the drug hallucination sequences depicted in the film, the repetitive funky disco groove reflects a state of trance that fits the imagery on the film like a glove.
The original (and never before reissued) 1979 vinyl soundtrack has become a highly sought-after album due to its incredibly high caliber of respected studio performers and collaborators. Collectors will shelve out a hefty amount for an original copy. Strange Disc Records now proudly presents a deluxe vinyl reissue (1000 copies) containing an insert with unseen pictures and extensive & exclusive liner notes. Released exclusively for Record Store Day (UK & Europe) 2019, available in participating stores on April 13.